Key points 5.5 meter city sloop citypro E355M
Enjoy silently
Enjoy the fresh air and the beautiful weather while gliding silently over the water all day long. Ideal for enjoying a picnic or a drink while enjoying the view. The perfect choice for people who like to enjoy nature and water without harming the environment. A unique electrically powered sloop. Durable and environmentally friendly to enjoy carefree sailing on the water. State – of – the – art drive equipped with a safe lithium iron phosphate battery . With this battery you can sail continuously: 140 km at a speed of 7 km per hour (maximum power) or 50 km at a speed of 10 km per hour (half power). A great choice for people looking for a sustainable and quiet way to enjoy sailing on the water undisturbed.
A wonderful sloop that you can use for recreational purposes such as a
day trip with friends or family.
Has a built-in location tracker, theft protection so that you can always follow the boat from home and also see whether the battery is fully charged and the convenience of turning it on or off remotely. Built with recycled materials. Beautiful parts of naturally preserved wood. Has plenty of space to relax and enjoy the surroundings. Comfortable safe cockpit with ample space for the steering wheel and seating for at least 8 people and a toilet.
Has a strong construction and is easy to operate and easy to moor. Easy to maneuver and no special skills are required to steer the sloop, this makes the MOVE e355 the ideal boat for beginners and experienced water sports enthusiasts. color as desired. Atmospheric interior lighting over the entire length ensures a pleasant atmosphere and appearance. And of course navigation lights make it complete.
An ingeniously designed toilet in an enclosed space and offers complete privacy and convenience while sailing, especially if you spend a long day on the water. So no more stress about mooring places. Make boat trips in the city or through nature without delay!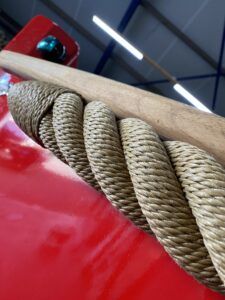 State-of-the-art
Electrically powered sloop equipped with the latest technology ideas and functions.
Suitable for 1 to 8 people. Sustainable construction with recycled materials, beautiful wooden parts made of naturally preserved wood. Very comfortable low-noise boat with spacious seats.
A safe high freeboard, comfortable seat behind the steering wheel. Luxury toilet in enclosed space. Very simple operation with one lever forward and reverse. Steering wheel steering for precision maneuvers, strong mooring points fore, aft and on the side. Interior lighting with warm white LED light. Includes front and rear navigation lights. Soft seat cushions in front and with strong water and dirt repellent fabric. Colourfast 72 mm rope fender with UV protection.
Maintenance free natural stone unique table.
Including tarpaulin made of lightweight material to protect and keep the sloop clean. Insightful screen for accurately determining the remaining sailing time and distance. During charging, the battery condition can be monitored on the screen. Link to internet with location tracker, battery condition, bilge water alarm, charger function. 230 volt connection on board for cool box / coffee maker / kettle during boat trip. The color scheme is current and can be adjusted to personal preference. Due to the strong construction and simple operation, the boat can also be rented out well.
Target audience
Private and company
Possibilities
Sailing 140 km at half power at a speed of 7 km per hour, 50 km at full power at a speed of 10 km per hour. Interim loading during lunch at a berth extends the sailing time.
Rental; due to the strong construction and simple operation, the boat can be rented out well.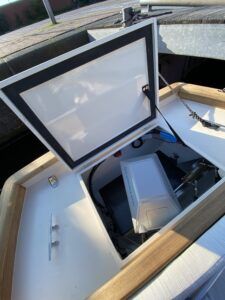 Technical specifications
Length 5.50M
Width 2.30M
Passengers 8
Weight 1000kg.
Engine E- Propulsion navi 3.0
Power 3 kilowatts
Price 49,900
Automatic bilge system with remote warning system. Hydraulic steering with comfortable steering wheel. Full electric drive system.
Navigation lights.
Large 14 kWh battery pack.
12 volt usb charger 230 volt on-board power supply.
Standard socket 230 volt 2kW.
Multifunctional screen with navigation software and battery monitoring is optional.
Various parts built with preserved Plato Wood.
Warranty 2 years, on motor 1 year, on battery 6 years descending. On-board computer with historical log data.
Optional connection via internet and remote maintenance.